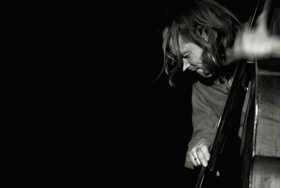 About me…
Dion Nijland (1970) studied double bass at the Sweelinck Conservatory in Amsterdam. He is a member of several groups that operate in the field of jazz, improvised and contemporary music. At this moment he is part of  DEON, HOT (Het Orgel Trio), Buisonic, SKOOP, Vanbinsbergen Playstation, Colen and Utrechts Jazz Archipel
For more then 10 years Dion was part of Dimami (together with Miguel Boelens on alto saxophone and Makki van Engelen on drums), Talking Cows and De Bende van Drie. In 2006 Dimami took part in 'The Young VIPs Tour' with, among others, Anton Goudsmit on guitar. A highly acclaimed cd was released, containing Dion's compositions. Furthermore, he has played with a wide variety of groups in France, Germany, Chile, Bolivia, Iraq, Turkey, India, Portugal and the USA.
In 2006 he took part in the Oostpool Theatre Group production of Brel, featuring Jeroen Willems in the title role. In 2009 he joined The RO Theater group in the theater play Woyzeck and shortly after did a large tour with the dance company Station Zuid in a piece called Ghost Note: a danced tribute to jazz.
As a double bass playing improviser he was musician in residence in his hometown Utrecht in 2009, as well as in Nijmegen in 2011. Dion teaches double bass at ArtEZ conservatory in Arnhem.
As a teacher Dion is coaching and conducting a jazz group called Jazzmée and give workshops in several cities in The Netherlands. At ArtEZ he teaches double bass since March 2014. Visit EDUCATION if you want to know more.
Finally, the best introduction I can give you is by showing myself in a short free improvisation.