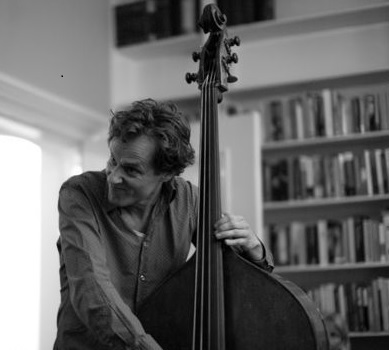 At the age of 17 Dion decided to pick up the double bass. Brought up by jazz, improvised music and pop, he is exploring the possibilities of him and his instrument every day along with many other musicians.
Dion teaches double bass at the Jazz & Pop department  of the ArtEZ Conservatory in Arnhem.
news
Thanks to Balkonscenes fund of Fonds Podium Kunsten I will be performing 5 times this summer with cellist Rogier Hornman. We call our collaboration RAKE SNAREN. Touching fingers, strings, minds and music. The first concert takes place on June 27th at the BUI Picnic series at De Onderbuik in Lunetten in Utrecht.
Mischa Andriessen says in TROUW about my solo-cd I PLAY ME: The honesty of this music is appealing.
Rinus van der Heijden writes an intens review about my cd I PLAY ME: 'I Play Me is een prachtplaat. Geheel akoestisch smeedt Dion Nijland een verbond met zijn contrabas. Hij strijkt, plukt, vervormt..'
I PLAY ME is the title of Dion's solo double bass cd. It will be released on Trytone in June 2021. Read more.
New CD Reflections of Duke by HOT & Brass is received enthousiastic by the press! Read this review by Rinus van der Heijden.
GIST is a collective of musicians from Utrecht. September 3rd 2020 the first GIST Festival took place! Gist will continue at the Museum Speelklok. Next concert event: Friday June 11th.
upcoming concerts
June 27, RAKE SNAREN (Duo Rogier Hornman/Dion Nijland), BUI Picnic Concert, Onderbuik Utrecht, 14.00
July 3, MAD & me (Duo Albert van Veenendaal & Makki van Engelen with me as guest), IJzerstaven, Amsterdam, 20.30
July 4, RAKE SNAREN (Duo Rogier Hornman/Dion Nijland), De Kersentuin (Leidsche Rijn), Utrecht, 11.00
July 4, HOT (Het Orgel Trio), Jazzvesper, Nicolaikerk, Utrecht, 17.00
July 10, HOT (Het Orgel Trio) plays Reflections of Duke, NJRT, Laurenskerk, Rotterdam, 15.00
July 11, RAKE SNAREN (Duo Rogier Hornman/Dion Nijland), Voedseltuin Overvecht, Gageldijk 3, Utrecht, 12.30