I PLAY ME – solo double bass cd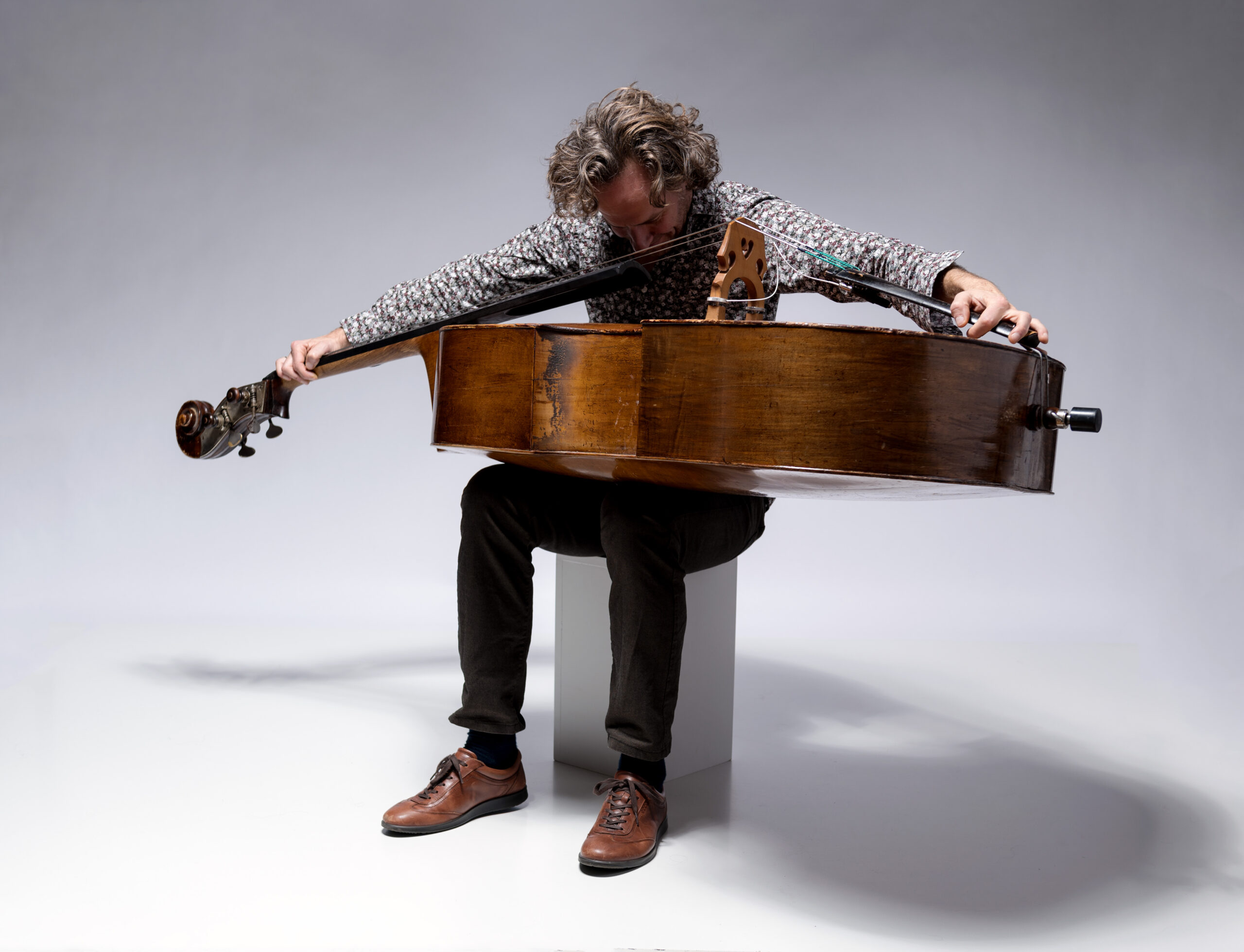 I PLAY ME is a project for solo double bass conceptualized and performed by Dion Nijland.
In 19 pieces, mainly improvised and a few composed, Dion shows where musical self exploration can lead. 'When I play there is sound, energy, chaos, silence. When I play there is me – I PLAY ME.'
As a double bass player, participating in many Dutch jazz and improvising groups, musical interaction has always been the key element in Dion's musical behaviour. But how would a recording sound when interaction takes place with no one else but himself?
I PLAY ME was released in June 2021 on Trytone and promoted by Toondist.
All pieces by Dion Nijland except Musica Nostalgica by Alfred Schnittke
Recorded on Nov 22 & Jan 31, 2019/20 by Michel Vermeulen @ Studio peggy51
Mixed and mastered by Michel Vermeulen & Dion Nijland
Photography by Allard Willemse (portraits) and Dion Nijland (cd)
Design by Studio Roodlof | Thies de Waard
The press was truly involved and wrote:
Each piece has its own atmosphere and signature. Nijland's playing is always transparent.
Gijsbert Kamer, De Volkskrant
The honesty of this music is appealing.
Misha Andriessen, Trouw
Nijland makes optimal use of his expressiveness in the short atmospheric drawings.
Ken Vos, Jazzism
I Play Me is a beautiful album. Entirely acoustically, Dion Nijland forges a bond with his double bass.
Rinus van der Heijden, Jazznu
The album becomes [thus] a succession of compact musical stories. At times surprisingly rich and full of small, elaborate details, at other times with coarser sweeps and direct expression.
Guy Peters, Enola
 …there is a lot of variation and the pleasure of listening to a whole array of inventive concepts, including some very rhythmic parts with accompanied vocalisations.
Stef Gijssels, Freejazzblog
The wonderful eagerness with which Nijland explores the possibilities of his instrument is contagious and leaves you wanting more.
Holly Moors, Moorsmagazine
The 19 pieces are varied in mood and expression, so that the music never gets boring.
Jan Gralnie, Salt Peanuts
… Musica Nostalgica (Alfred Schnittke) is a worthy final piece of the album.
Herman te Loo, Jazzflits
I Play Me is a personal album by a bassist who has kept the playfulness in his musical maturity.
Gert Dekx, OPDUVEL
It is music with depth and soul, and with an emotional impact that is evident right from the start.
Dolf Mulder, Vital Weekly
Nijland playfully crosses through the purgatory of double bass doubts , quick-witted and dancing even.
Rigobert Dittmann, Bad Alchemy
In Dutch it looks like:
Ieder stuk kent een eigen sfeer en signatuur. Nijlands spel is altijd transparant.
Gijsbert Kamer, De Volkskrant
De eerlijkheid van deze muziek is aansprekend.
Misha Andriessen, Trouw
Het zijn korte juweeltjes, gecomponeerd of geïmproviseerd, die je steeds uitnodigen om naar het volgende kleinood te luisteren.
Ken Vos, Jazzism
Nijland maakt optimaal gebruik van zijn expressiviteit in de korte sfeertekeningen
Ken Vos, Jazzism
'I Play Me is een prachtplaat. Geheel akoestisch smeedt Dion Nijland een verbond met zijn contrabas.'
Rinus van der Heijden, JazzNu
Het album wordt [zo] een aaneenschakeling van compacte muzikale verhalen. Nu eens verrassend rijk en vol kleine, uitgewerkte details, dan weer met grovere vegen en directe expressie.
Guy Peters , Enola
De 19 stukken zijn gevarieerd in stemming en expressie, zodat de muziek nooit gaat vervelen.
Jan Gralnie, Salt Peanuts
De heerlijke gretigheid waarmee Nijland de mogelijkheden van zijn instrument verkent werkt aanstekelijk en smaakt naar meer.
Holly Moors, MoorsMagazine
En de handreiking die de 20ste eeuwse Russische componist Alfred Schnittke deed aan de barokmuziek in zijn 'Musica nostalgica' is een waardige afsluiting van het album.
Herman te Loo, Jazzflits
I Play Me is een persoonlijk album van een bassist die in zijn muzikale volwassenheid de speelsheid heeft bewaard.
Gert Dekx, OPDUVEL